Capturing the look and essence of '90s hip-hop style can be challenging—especially when it's for a movie like All Eyez on Me, the film about Tupac Shakur. But Kenya Ware, the costume buyer for All Eyez on Me (out in theatres on June 16), was there and lived through it. She even styled Tupac himself before he was killed in 1996.
Ware, an L.A. native, married and started a family with Tha Dogg Pound member and Snoop Dogg's cousin, Daz Dillinger, in 1991. Helping in any way that she knew how, she began to shop for Death Row Records' artists, including Snoop, Tha Dogg Pound, The Lady of Rage, Nate Dogg, often hand-delivering wardrobe to the set of music video shoots and TV appearances. From there, she became Death Row's West Coast marketing representative.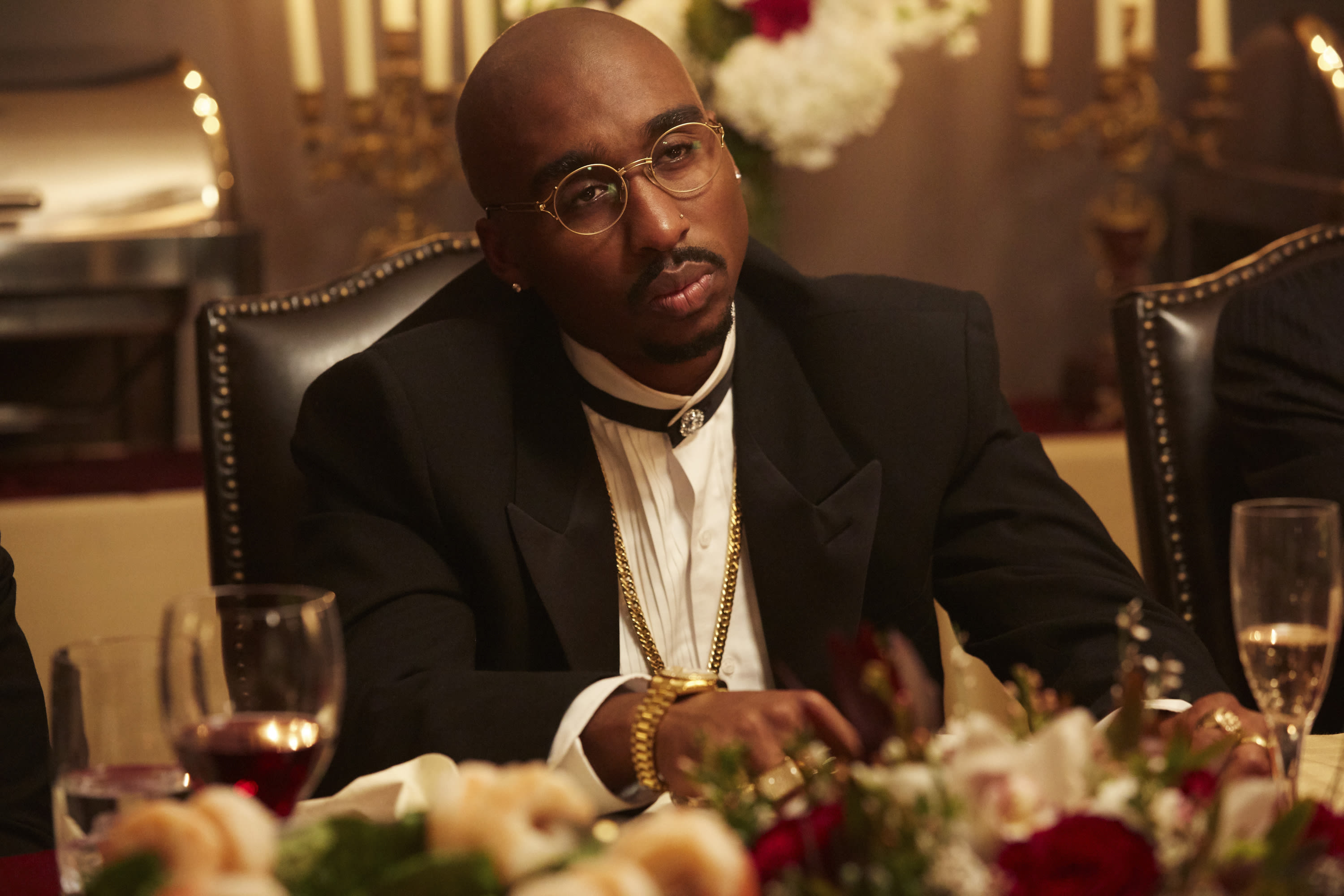 Image via Lionsgate
She credits Suge Knight for supporting her passion for styling. "Suge always told me that beauty was only temporary, but your intelligence is forever," she says. "He inspired me to get my own. He wanted me to succeed and that's stayed with me to this day."
In her 20-year career, Ware has worked as a costume buyer for films and TV shows like The Hunger Games: Mockingjay—Part 1, Ride Along 2, Entourage (film), and Straight Outta Compton.
In this exclusive interview, Ware talks about what it was like working with Tupac, what she wanted to accomplish with the wardrobe for All Eyez on Me, and why Tupac's style will always be imitated.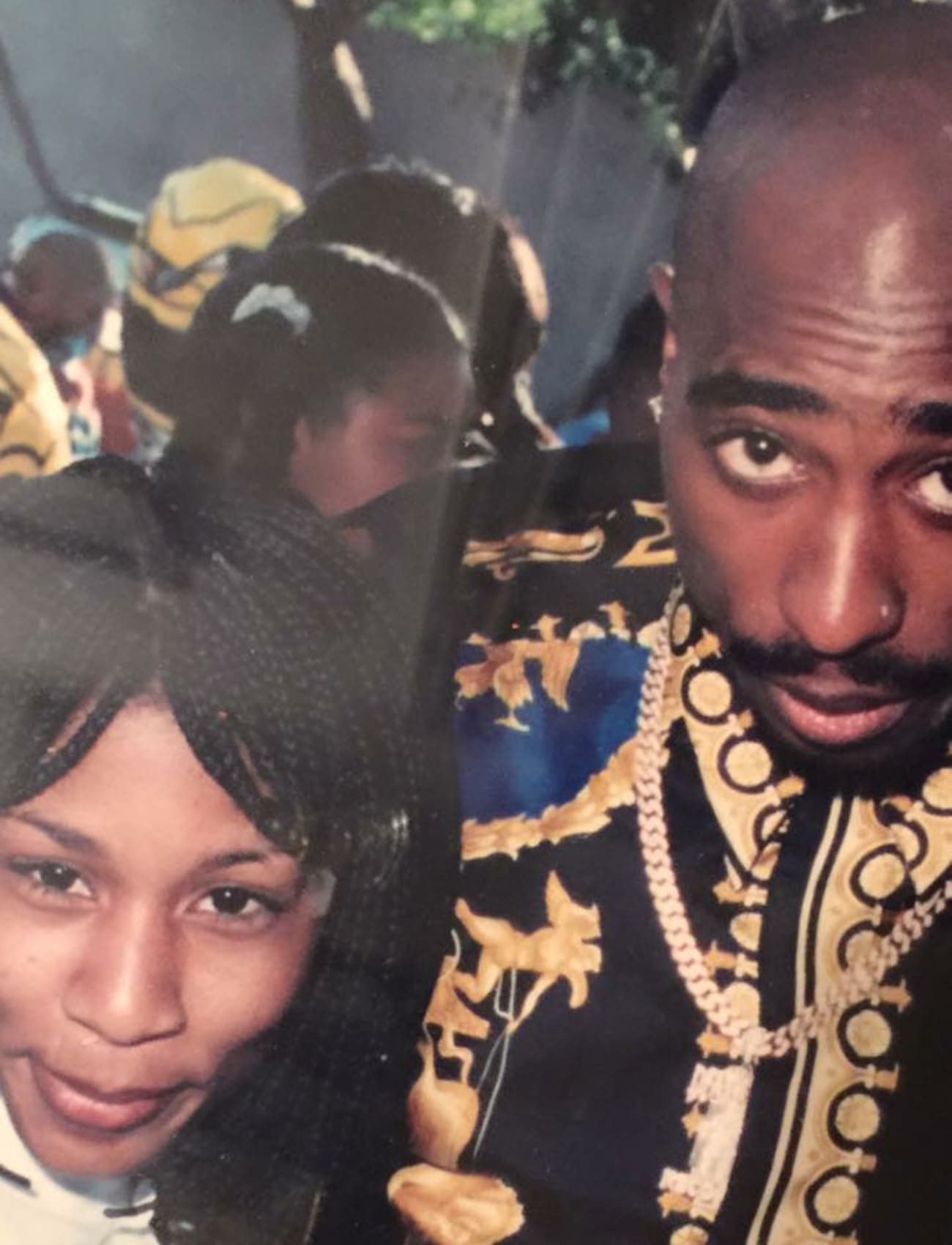 Kenya Ware (left) with Tupac. (Image via Kenya Ware)
How did you meet the guys from Death Row?
The first person I met was N.W.A. member MC Ren backstage at a 1989 New Edition concert. N.W.A.'s bodyguard approached me and said one of the members wanted to talk to me. I was frightened because I had heard they were gangbangers. Ren asked me for my number and on the first date I almost got kicked out of my house because he walked into my Baldwin Hills estate with a black trench coat, khakis, and Crip slippers. My mother went ballistic!
From there, I was invited to several N.W.A. concerts where I met Eazy-E, Dr. Dre, Ice Cube, and the rest of the gang. Years later, when Death Row was forming, I met Suge Knight and Snoop Dogg.
How did you meet Tupac?
[My ex-husband] Daz [Dillinger] would always write letters to the Clinton Correctional Facility to try to keep Tupac's spirit up while he was in jail on the rape case. Once he got out and signed with Death Row, I threw him a party at our place. We invited Method Man, Redman, Rage, Snoop, Kurupt, and a few other people to celebrate Tupac being released from jail and also signing with Death Row Records.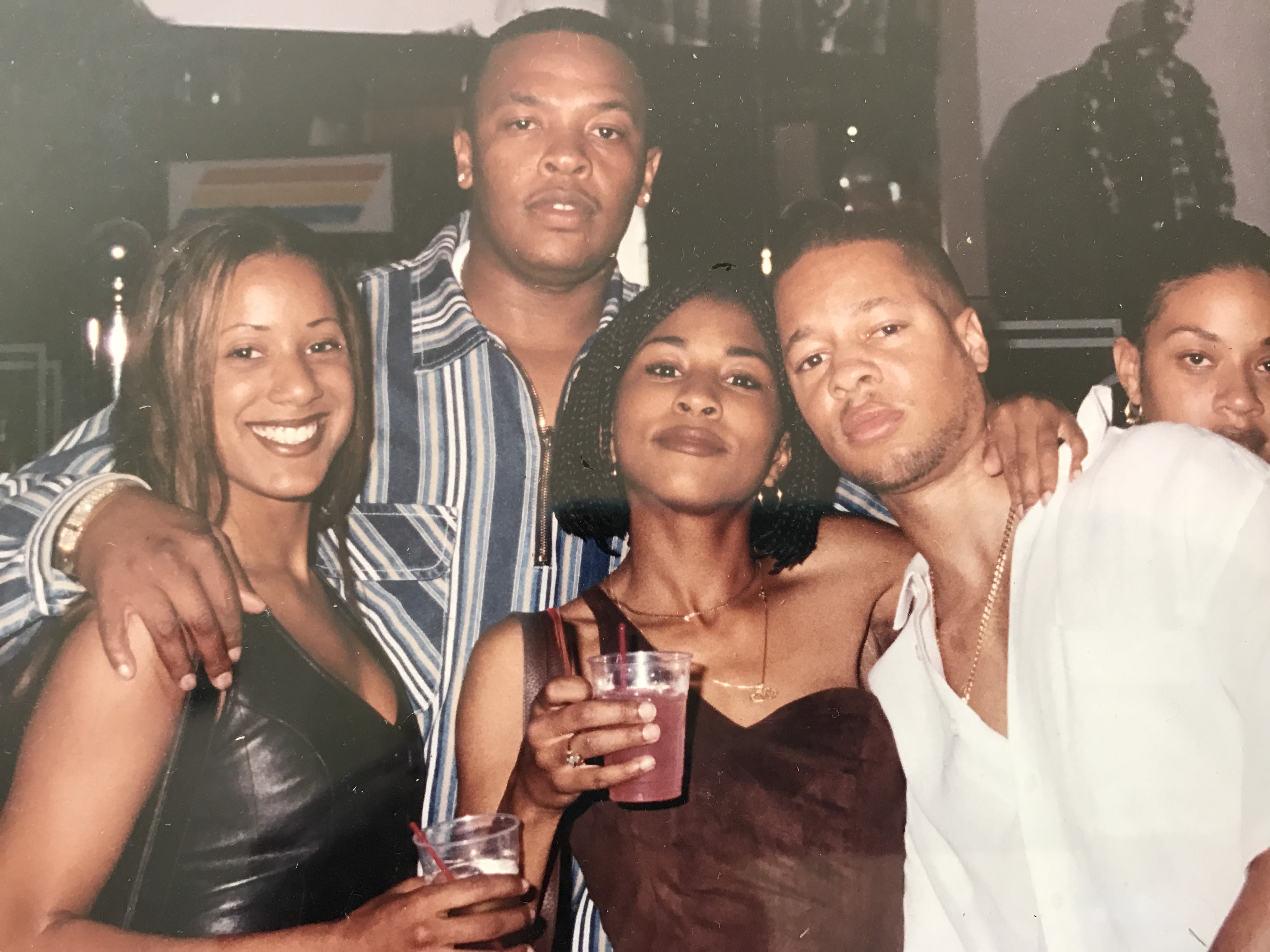 Kenya Ware (center) with Dr. Dre and Sam Sneed at Suge Knight's 662 Club in Las Vegas in 1995. (Image via Kenya Ware)
What was it like shopping for Tha Dogg Pound?
Shopping for Tha Dogg Pound and Snoop was always fun because I got to create something different than gangster wear. They were in love with Guess shirts but still wanted the baggy Karl Kani jeans. It was a slow process to get them away from the Dickies uniform. I had to make sure that whatever I bought for them was oversized and was in either blue or grey, which were Tha Dogg Pounds' and the Crips' colors.
Did you shop for Tupac?
'Pac had his own style. He wasn't interested in clothing right away. He said the only thing he wanted to do was stay at the studio and make as much music as possible. I often pulled boxes of Karl Kani clothing for the boys and let them pick out what they wanted to wear for events.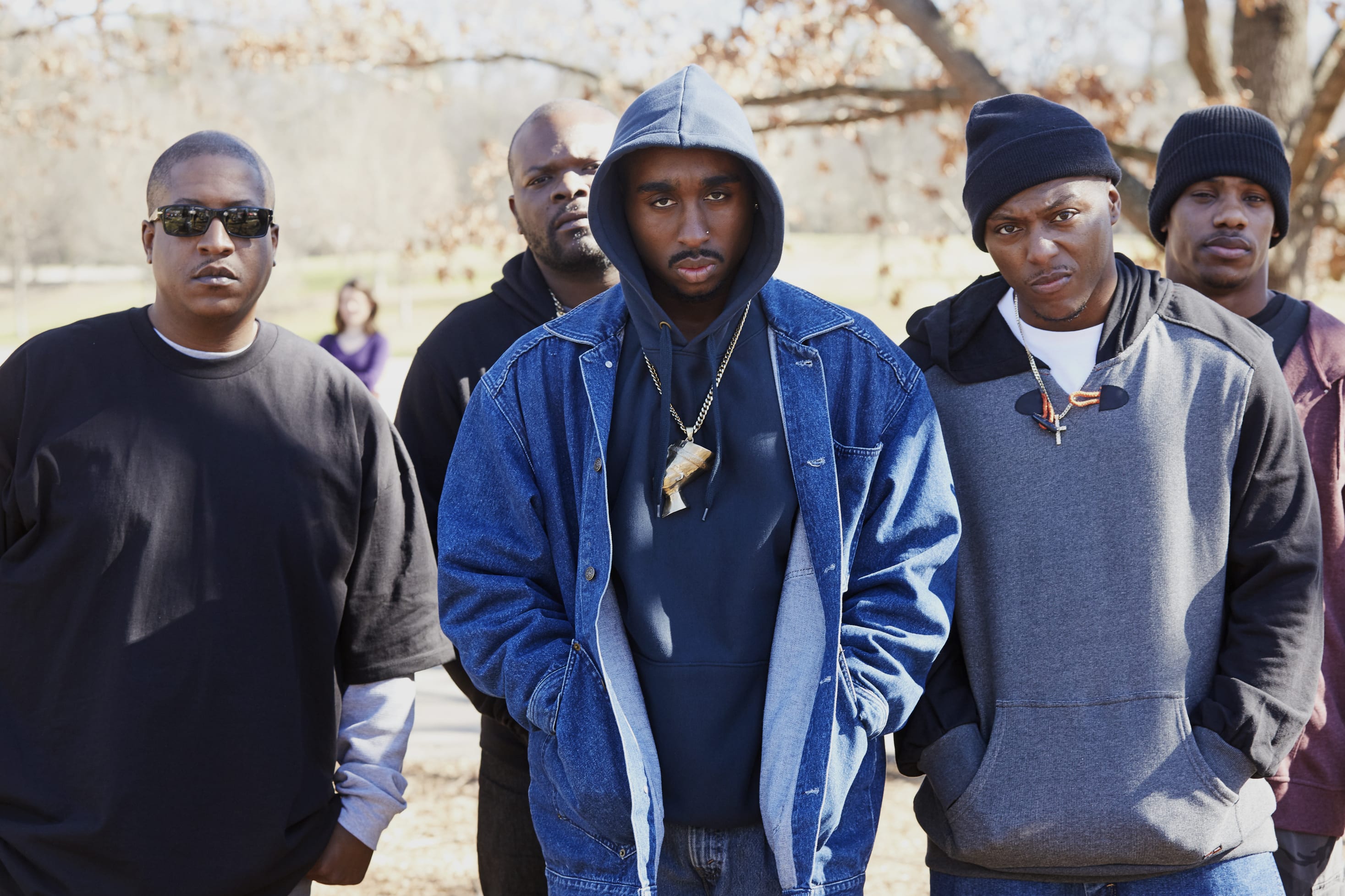 Image via Lionsgate
What did you buy for Tupac? What was he into at the time?
I tagged along with Suge Knight and 'Pac during the [boxing]fights in Las Vegas. Shopping at Caesar's Palace during the fights was the best. It was kind of like a status quo. That's where you got to showcase how much money you really had because all the ballers were watching. Tupac wasn't that into fashion but at that point, in the '90s, you had to dress to impress. He slowly transitioned away from the gangster clothes to Versace. Suge was about to hire me as 'Pac's personal stylist, but then 'Pac got killed.
Speaking of Versace, Tupac walked in a runway show with Kidada Jones for the Italian fashion house in 1996. How did that happen? Whose decision was it to have a bodyguard walk with them?
During those days, if you were an artist on Death Row Records the rule was you had to always wear your bulletproof vest and keep a bodyguard at all times. The bodyguard was definitely Suge Knight's call.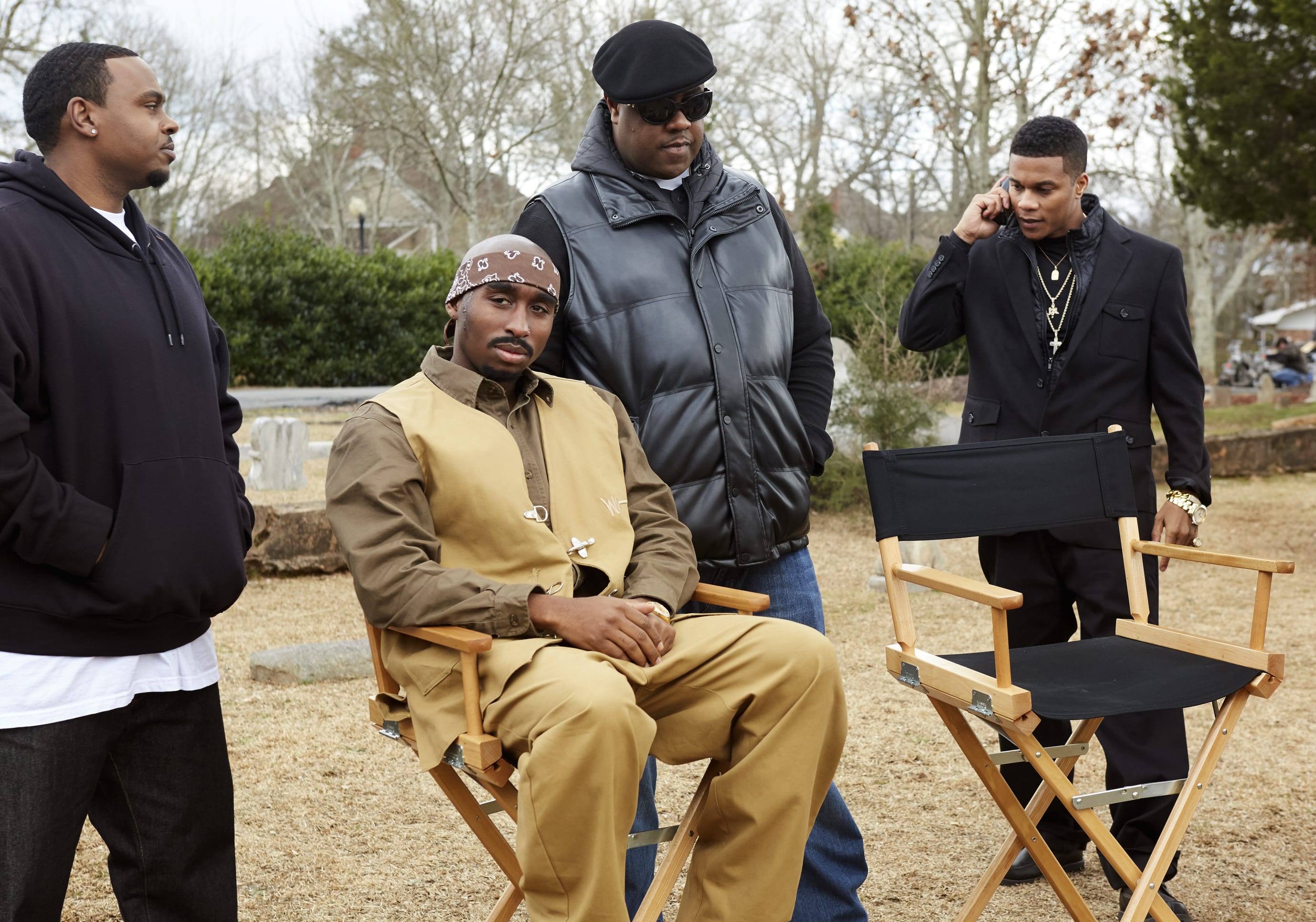 Image via Lionsgate
What did you want to accomplish with the wardrobe for All Eyez on Me?
This film needed to have Karl Kani and Walker Wear to be authentic because those were two designers that Tupac wore religiously. I wanted to make sure that all of the replicas were right. Sometimes getting information from third parties or Google aren't that accurate, so[All Eyez on Me producer] L.T. Hutton figured it would be better to hire a person who actually knew Tupac and was around him a lot.
How would you describe Tupac's style?
A revolutionary gangster. He set the tone for the durag on your head, the body tattoos, and the oversized baggy jeans.
Are there any specific Tupac looks you tried to copy for the movie?
Yes. Tupac did an advertisement for Karl Kani and we remade that look. The actor who plays Tupac, Demetrius Shipp, went to Karl Kani's studio and we made sure that he looked and wore the clothes just like Tupac. We also copied the Black Panther Party look because his mom was a Black Panther.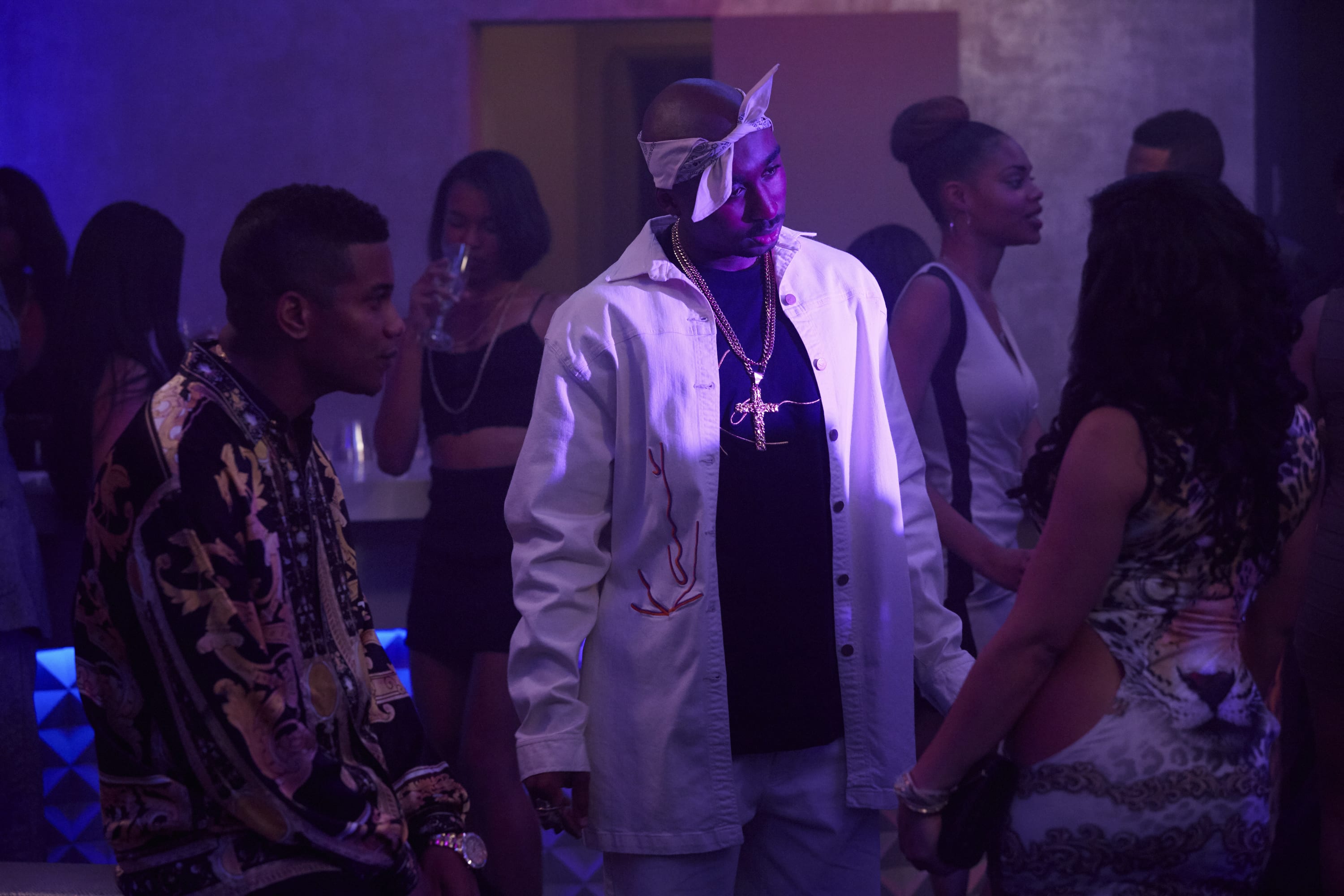 Image via Lionsgate
What do you think of Demetrius Shipp Jr.?
Ironically, Demetrius' father used to work with Death Row back in the days, so it was like working with family. It's just amazing that his son looks just like Tupac. Demetrius Shipp was the best choice [for the role]. It's funny because before he started acting he worked at Walmart.
Did he stay in character on set?
He had Tupac's demeanor down to a T.
What was the vibe like on set? Did any celebrities stop by?
I did most of the shopping in Los Angeles but the few times I did visit the set in Atlanta and saw Demetrius it was like seeing Tupac reincarnated. I think every celebrity in Atlanta stopped by the set in hopes of getting a cameo. Snoop's dad, Vernell [Varnado], and Daz were on set during the entire time.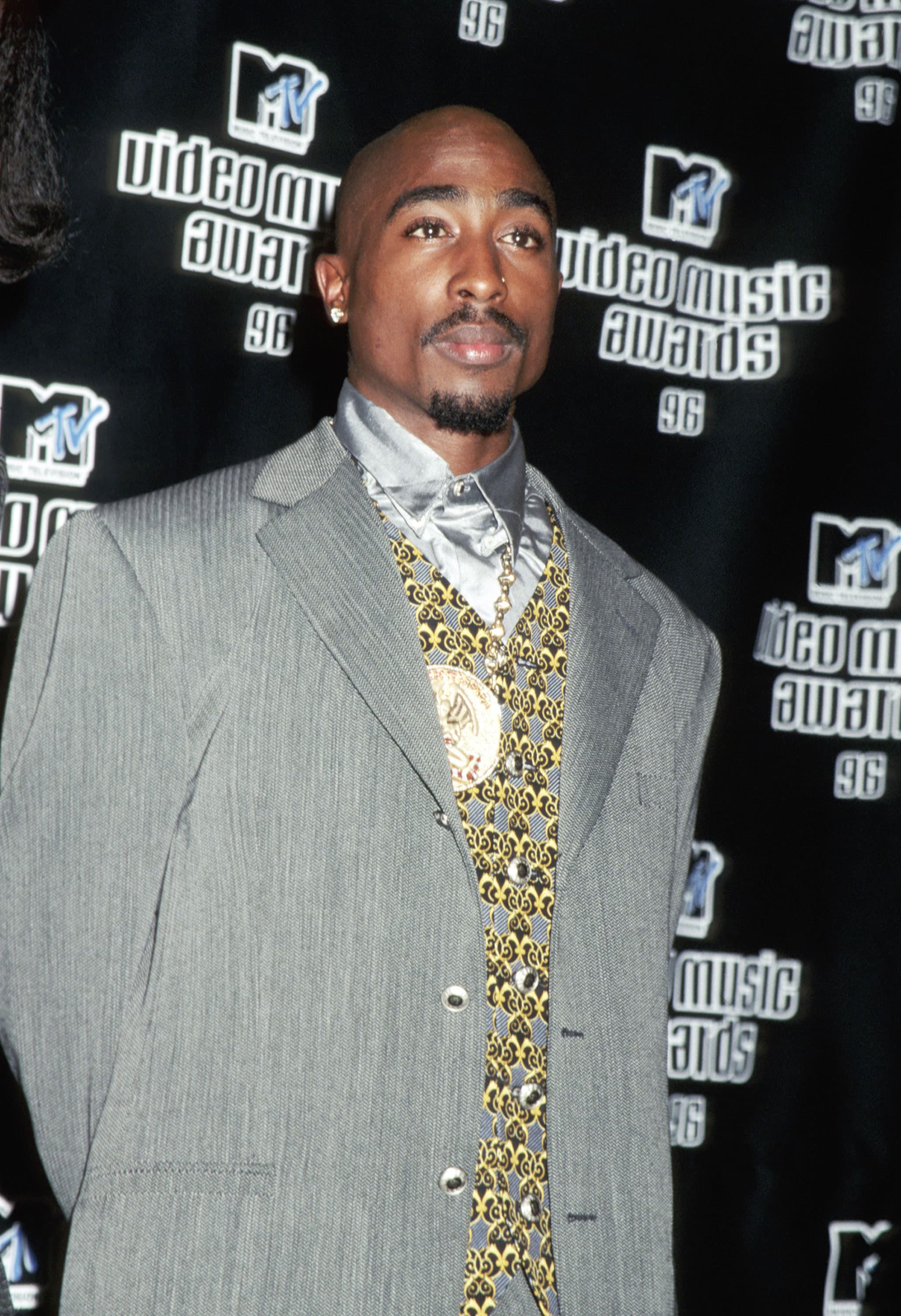 Image via Getty/Ron Galella
Where did you source the wardrobe from?
Since I grew up in L.A. in the '80s and '90s, the shopping came naturally. One of the stores I went to is called Greenspan in South Gate. If you really need gangster clothes, this is the one-stop shop for your '80s and '90s looks.
Why did All Eyez on Me take so long?
It was a couple things. Tupac's estate and a lot of the people they wanted to do the movie held it up. There were also issues with clearing the music since Death Row's catalog was sold.
What's your favorite Tupac look?
I love the Versace blue and gold shirt he wore. I actually have a picture of me and him in that shirt at Suge Knight's daughter's third birthday party.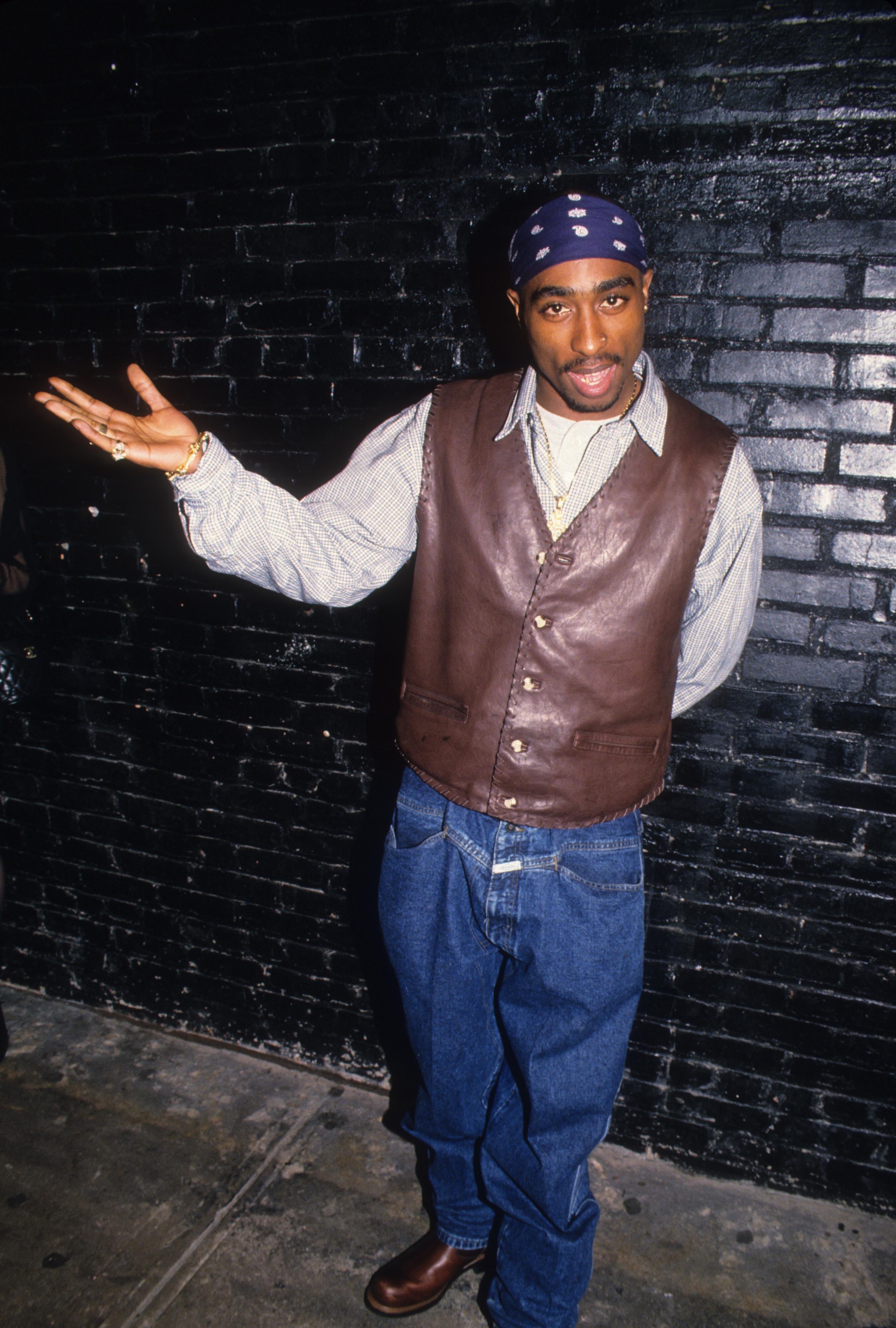 Image via Getty/Steve Eichner
Do you remember where you were when you heard Tupac was killed? Walk us through that moment.
I was actually in Vegas with Tupac and Suge when he was killed. I was with Tupac downstairs at the Luxor Hotel after they got into a big fight at MGM Grand. I spoke to him right before he took that car ride to Club 662. I made the first call to [Suge's ex-wife] Sharitha Knight and Daz and let them know what had just happened. One minute I was walking into Club 662 wondering why it was taking Tupac so long to get there and next thing you know we were told that something had happened to him. I drove like 100 miles an hour trying to get to the crime scene. It was the craziest night of my life.
Why do you think Tupac's style was copied so much in the years after his death? What do you think he would've thought of that?
Tupac was a pioneer of rap, period. This man created history and set a tone in just 24 years of life. He will forever be copied because his style was genuine. If he were alive today, at age 45, he'd probably teach the youth to be original and create their own style.
Via.: Complex